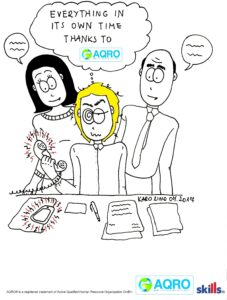 AQRO® (Active Qualified Human Resource Organization) is a method of human resource management which allows for such organization of the work of an organizational unit, department or the entire organization:
greater productivity – saving up to ¾ days per employee per week,

greater transparency in the organization,

flexible and disciplined approach to human resource management of the organization,

a system that allows the organisation's personnel to work uninterruptedly.
The AQRO® (Active Qualified Human Resource Organization) method was created for IT departments, but it can be used in any department by assigning the roles: Project Management, Operations and Contact Person. This allows you to separate responsibilities and adjust them to the preferences of employees.
Reducing the amount of disruption to the Project Management and Operations roles by redirecting all communication to the Contact Person reduces disruptions and increases productivity significantly. Applied in a department or the entire organization, it will significantly increase efficiency, reduce the amount of resources required and reduce the amount of stress on staff.
We use AQRO® as a method that allows us to increase efficiency while reducing the amount of human resources involved in our organization since 2016.
We added AQRO® (Active Qualified Human Resource Organization) training in 2017 to our offer.
The reason is that our clients' employees work under increasing stress and with less and less productivity as a result of more and more disruptions (e-mails, phone calls, overlapping duties).
We are also happy to help you.
OR CHOOSE A TRAINING DESCRIPTION BELOW:
Choose the Foundation level if you are a manager and want to know how to organize your work.