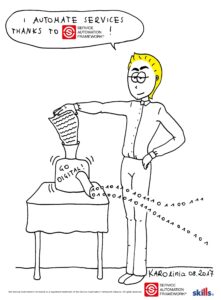 More and more organizations such as UBER, Airbnb, Netflix provide services in an automated manner, reducing costs related to human service, while gaining customer satisfaction and loyalty.
SAF® allows you to design the service in a customer-centric manner taking into account the profile:
• demographic (age, place of residence, education, etc.)
• psychographic (data availability, ease of use, graphic style, privacy and security, etc.)
so that the service is tailored to the client's needs and builds his loyalty, while ensuring 24×7 availability.
Framework Service Automation building blocks
The Service Automation Framework structure consists of six main components, which can be divided into:
"heart" (focused on design)
1. User. A building block that defines the key characteristics of the groups of people the service provider is to serve.
2. Service design. A business function that designs and defines a service provider's service offering. It is the embodiment of the service concept into a real design, including appropriate support structures and digital interfaces;
3. Technology. The building block that defines the configuration and usability of digital interfaces, connecting service providers to their users
"brain" (focused on delivery) equally important in the delivery of automated services:
4. Automatic deployment. Processes that enable the user to start using the service based on their own actions.
5. Service delivery automation. Processes that allow the user to change or terminate any aspect of the service based on own actions.
6. Serendipity management. Processes that facilitate a planned and continuous approach to continuously exceed user expectations.
Each of the six elements is equally important in the implementation of automated services. We define each of them during our training.
For this reason, we introduced the Service Automation Framework® (SAF®) training in 2017 to our company and services portfolio.
We are also happy to help you.
OR CHOOSE A TRAINING DESCRIPTION BELOW:
Choose the Foundation level if you are a team member and want to know how to do your job.